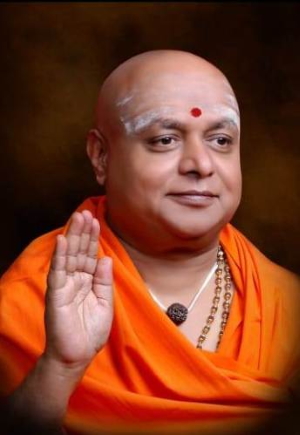 About the Founder
Bhairavaikya His Holiness Jagadguru Sri Sri Sri Dr. Balagangadharanatha Mahaswamiji (1954-2013)
प्रसमाहितमत्यन्तं प्रथिमामिततेजसू ।
वशीकृतपरानंन्दं श्री बालगडूगाधरं गुरुमाश्रये ॥
On 24 Sept 1974 he became the 71st pontiff of the Adichunchanagiri Dharma Peetha and worked tirelessly to realize his vision of revolutionizing Society through Spiritual, Educational, Social, Cultural activities of the Mutt. He travelled all around the world understanding the needs of the people.
His Holiness was truly an enlightened and realized soul for he treated all the people alike, without discriminating based on caste, creed, sex or status. His approach towards handling different problems was truly scientific and logical.
This led to the establishment of Sri Adichunchanagiri Shikshana Trust. At present nearly 500 such institutions are functioning across the Nation aiding the Government in educating the rural and semi-rural children. Also, Mahaswamiji has made free boarding and lodging facilities for Civil services aspirants in the premises of the Mutt in Bangalore.
Sri Sri Sri Dr. Balagangadharanatha Mahaswamiji not only emphasized modern system of Education but also advocated traditional teaching system. It is the collective responsibility of the community to continue and preserve the devoted services of His Holiness Jagadguru Sri Sri Sri Dr. Balagangadharanatha Mahaswamiji, during whose era the Mutt reached the maximum grandeur. The consistent efforts of this 71st pontiff should be ideal for the forthcoming successors to work for Humanity selflessly and exhibit more zeal than before in achieving the dreams and visions of the former come to reality.
---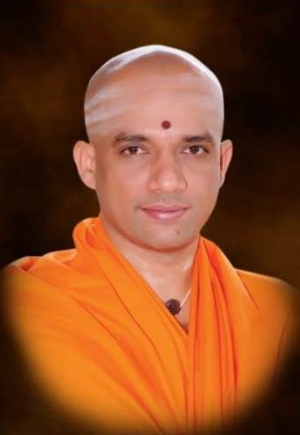 Sri Sri Sri Dr. Nirmalanandanatha Mahaswamiji, President, Adichunchanagiri Shikshana Trust
ब्रह्मानन्दं परमसुखदं केवलं ज्ञानमूर्ति द्दन्द्दातीतं गगनसदृशं तत्वमस्यादिलक्ष्यमू।
एकं नित्यं विमलमचलं सर्वधीसाश्रीबूतं भावातीतं त्रिगुणरहितं सद्रुरुं तं नमामि॥
"I salute to that Sadguru who is the source of eternal bliss, supreme happiness, who has true wisdom, who is beyond the dualities, who is infinite, whose attention is always on the divine, who is unique, eternal, pure, steady, and who sees with the eyes of wisdom who is beyond thoughts and beyond three gunas".
Message
The aim of education should be to teach one how to think, rather than what to think.

"Education would be much more effective if its purpose is to ensure that by the time, they leave school every boy and girl should know how much they do not know and be imbued with a lifelong desire to know it." BGS Public School has proven its effectiveness in imparting knowledge to each student and built a desire to know what they do not know.

The focus of BGS Public School is to develop the personality of the individual and to make the children understand the significance of their life to themselves and to others. The teachers of this prestigious institution under the support and guidance of their mentors strive hard to make docile and inquisitive citizens who are the Nation Builders. School is driven by the belief that every child deserves a high-quality education, and that educational opportunity is a basic human right. Providing ample educational opportunities is one of the most fundamental obligations each generation owes to the ones that follow. BGS Public School provides a lot of opportunities to students in every field of education to prepare a skillful, wise, intelligent, creative and confident future generation.

The school environment is designed for the 21st century and technology continues to support the students to develop their skills. The dedicated faculties have produced many future leaders, doctors, engineers, politicians etc. Teachers and students are provided with lots of opportunities. Opportunities carry responsibilities. You must accept these responsibilities, seize and grow. In this competitive world, you will be able to make your future bright only with decisive approach, firm determination and committed focus on your set goals.

I hope that all of you get lots of fame and achieve greater distinction. Wishing you lots of luck and good wishes for your future.
---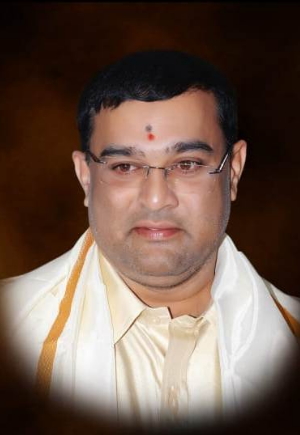 Sri Sri Dr. Prakashnatha Swamiji, Managing Director, BGS Group of Institutions and Hospitals
विद्या ददाति विनयं विनयाद्याति पात्रताम्‌ |
पत्रत्वाद्धनममप्नोति धनाख्म ततः सुखम्‌ ॥
"Knowledge gives discipline, from discipline comes worthiness, from worthiness one gets wealth, from wealth (one does) good deeds, from that (comes) joy."
Message
"Education is the most powerful tool so use it wisely". If you are a privileged person, help others by enlightening them, by teaching them the difference between right and wrong and imparting moral values. If education is based on values and ethics, strengthened by sound moral principles, then our generation will grow up as good human beings.

Education doesn't come on its own as there has got to be an intermediary who can impart knowledge and show them the right path. This is certainly the role a teacher plays in our lives, and he/she is the one who comes as an experienced person and helps children differentiate between right and wrong. BGS Public School imparts knowledge in various fields and ensures that the students grow up as responsible citizens. The school does not believe in bookish knowledge; it teaches values and helps the students to know how to live their lives with dignity, conduct themselves, how to be humble and how to treat others.

BGS Public School believes in fun filled and stress-free learning. Every single child is given the opportunity to share and express his/her view freely. I noticed in every event, there was maximum participation of the students. The school not just focuses on academics but also takes care of the all-round development of the students. It could be sports, cultural events, competitive exams, etc. Therefore, I believe education is something not just restricted to books or classroom teaching, but it's about acquiring skills, realizing our inner strengths and polishing those strengths.

So, it is important to impart good values to our future generation and never lose sight of the primary aim of education, i.e., to become good and responsible global citizens. I wish all the teachers, students and parents of BGS Public School all the best.