BGS Public School, which was founded in 2006 by His Holiness Padma Bhushana Jagadguru Sri Sri Sri Dr. Balagangadharanatha Swamiji under the aegis of Sri Adichunchanagiri Shikshana Trust®, is a co-educational day school. It occupies a prominent place in the 60 acres of BGS Health and Education City campus on Uttarahalli Road, away from the hustle and the bustle of the city but also among the parent community of West and South Bangalore. The school has an excellent infrastructure with spacious and well-ventilated classrooms, pure drinking water facility, library, state of the art computer labs, the laboratories for different disciplines of science and a beautiful playground. The school also boasts of a fleet of buses plying in different directions to provide conveyance to our students on payment of a nominal fee. Nestled between the famous BGS Global Hospital and the colleges of Nursing, B.Ed and Management, the BGSPS provides a secure and tranquil environment of learning and erudition to one and all.
The school is headed by a very highly qualified and experienced Principal who has the support of a team of dedicated, enthusiastic teachers who leave no stone unturned to help the children in their care.
At BGS Public School, a sincere effort is made to provide holistic education based on the CBSE curriculum. The school prepares the children to be rooted in the great Indian culture and tradition while preparing them to face the global challenges of the present-day world. The curriculum here is aimed at providing excellent education in scholastic subjects, co-curricular activities, value education, games and sports, yoga, music, art & craft and dance. Equal importance has been laid to develop the rounded personalities of the children through Personality development programmes, emotional and spiritual development, artistic and aesthetic development of the children. A number of opportunities are provided to the children to develop scientific thinking and keep themselves abreast of current events through quizzes and extension lectures.
If you are looking for a school for your child to grow on the right path, BGS Public School Kengeri is the place for your wards.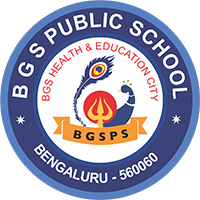 The PEACOCK, the TRISHUL and the SUN are the symbols in the design of the Logo which in unity, symbolizes strength and gentleness, pride and humility and the sustenance of life and growth.
The design of the logo describes quintessentially – in the myriad colors of the PEACOCK, the TRISHUL, ancient weapons of the Gods and the eternal SUN – the Indian ethos blending together its traditions, culture, ideologies and philosophies.
Our Vision
Our Mission
Our Motto